Recurve Bows
Take your bow hunting to the next level with our handcrafted recurve bows. At Custom Bows by Wes Wallace, we offer three models of recurves: Mentor and Stealth in takedown and one-piece bows, and the Partner in takedown bow only.
Detailed Designs
The wide limb design and long fadeouts on my recurves create a total working limb that tapers to a narrow tip for superb smoothness. Each recurve comes with a DynaFLIGHT 97™ string. The riser of the Mentor and Stealth also has a beautiful accent stripe of wood and black micarta for beauty and strength .
Precise Dimensions
We build our bows with the perfect dimensions for precise shooting. The site windows on my recurves are cut three-sixteenths of an inch past the center for the best arrow flight. The shelf and sight window are radius cut. With a brace heigth of seven-and-a-half-inches, the bow is extremely quiet shooting with stability and speed unsurpassed.
Beneficial Overlays
To add to the beauty and strength of our bows' limbs, we use linen micarta and wood in the tip overlays that come standard with every bow. Antler tips can be added to go over the wood overlays. The clear satin finish on each bow is moisture-resistant, flexible, and the most durable finish that I have found.
Checkering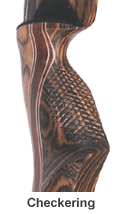 I offer checkering, which is a wide diamond pattern, consisting of 7 lines per inch on the palm of the riser section. The checkering gives you added traction when wearing a glove and adds additional beauty to your bow. I recommend the checkering and I put it on all of my personal bows.
Mentor

We offer a large selection of exotic hardwood material for the riser. The back of the riser has black and clear fiberglass and a veneer that matches the limb core or limb veneer. Choose bamboo, Red Elm, Yew, or Osage for your limb core material. We also offer exotic woods for veneers and split veneers. All of the exotic wood choices are listed on our order form.
Stealth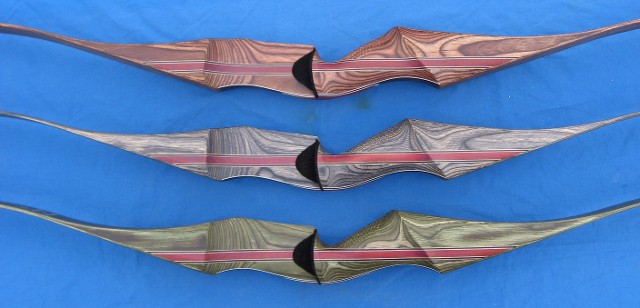 One Piece Stealth
The riser of our Stealth bow is made of vertically laminated birch that is dyed grey, green, or walnut-colored with an accent stripe of wood and black micarta for beauty and strength. The back of the riser has white and black fiberglass. The limbs are constructed of the same choices of dyed laminated birch to match the riser and are backed with clear fiberglass.
Partner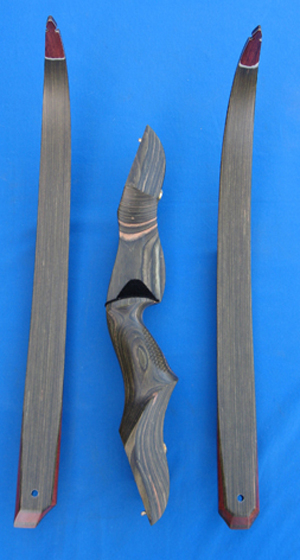 Green Partner
Our Partner bow has many of the same features as the Stealth bow. However, the riser section does not have an accent stirpe.